All right Gary, you and I have had it out. You're probably blissfully unaware of this but it's true. For the better part of over 15 years you've been trying to figure out a way to grow the popularity of hockey in America and you've been a brutal, miserable, egotistical maniac of a failure in doing so.
Eight years ago you had your two home countries in Canada and the United States facing off with your NHL talent in the Olympics for the gold medal in Salt Lake City.  Two years after that, after failing to seize attention of the masses in spite of having the games in the United States and basically getting your run of the schedule, you and the owners locked out the players looking to find a way to secure finances for your pack of rich idiots over those ever-greedy players.
Of course, you didn't do a good enough job of that and people are already grumbling about future labor strife. You cut a cable deal after the lockout with a loser network while simultaneously giving the finger to ESPN for treating the lockout like a joke, spending every minute talking about it cutting jokes and laughing at how completely stupid you, the owners and the players all looked.
Fast forward to today.  The USA and Canada play in what was one of the greatest gold medal games of all time (no hyperbole here), an overtime thriller that saw Canada win 3-2, that featured your hand-picked golden calf score the game winner in overtime. I'm sure this left you twinged with strife because while Sidney Crosby is your boy and he plays for an American feel-good-story team in Pittsburgh… He's Canadian. I'm sure that getting your new and gigantic NBC hockey watching audience instantly disliking the guy you want to be the face to the league is driving you mad but you don't care because all you're seeing now is dollar signs of opportunity.
I mean, hey why not? A balls-out crazy game featuring the United States tying the game with under 30 seconds to play is damn dramatic and any game that ends in overtime (you hear that, in overtime) is thrilling. Thankfully the IIHF does things the right way when it comes to overtime and allows the game to be settled on the ice and not in a shootout.  I know shootouts made Peter Forsberg a legend in Sweden and sunk Corey Hirsch's career but let's get real here.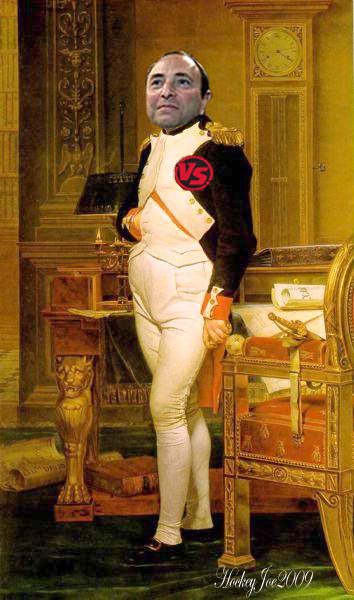 I'm straying from the point here though. The point being that, once again, the NHL has a golden opportunity to seize the interest of the American mass audience they desire so much. They screwed the pooch in 2002, they screwed it even harder in the 1994-1995 season when the New York Rangers had won the cup in 1994 and got the attention of the entire country… Only to see the owners lock the players out the following season and play a shortened schedule in the 1994-1995 season.
People want to know when Gary Bettman's moment is going to be and we're all still waiting for it to happen (if it ever will) and while this tournament has provided thrills and excitement all over the place, Bettman was continually asked about what would happen in 2014 in Sochi, Russia which gave him a grand platform to play politics with the IOC, IIHF and the NHL Players Association.  He gave nothing away in his answers and essentially said, "We'll get to that when we're good and ready to." Admit to nothing, never tip your hand, make everyone wait it out.  You know, that's the whole thing in the NHL's hand in the Versus/DirecTV dispute too (which is still unsettled) – play no favorites, say it's not your fight (yet) and allow everyone to do what they need to do without really getting your hands dirty.
Of course when NBC is pulling the strings for what games they want to show you're going to bow to their will since they're such a tremendous broadcast partner for the NHL and hockey in general. Lord knows fans out in the mountain and pacific time zones are happy to have watched  Olympic games on tape delay.  Since, you know, people will always tune in when they already know what happened.  Then again, perhaps NBC is just setting us up for the future of the NHL where it's like how the NBA was treated in the 1970s when the NBA Finals were televised… Whenever they felt like putting it on the air.  Maybe since NBC saw how great the ratings for the Olympics were regardless of whether events were actually live or not, they'll apply this to all of their sports properties. Nevermind that games could be shifted to occur live, they can just have them happen whenever and if it turns out to be really good they'll just hype the shit out of it and put it in prime time in a nice, convenient, commercial-friendly package.
I'm making myself dumber for just ranting off like this Gary because this is what you've done to the hardcore hockey fans.
You've abused and taken full advantage of them at all times. Whether it's a shitty cable network, a shitty national broadcast partner, obnoxiously high ticket prices in many cities, a shitty jersey deal with a company that want to soak fans for more money or any host of other issues that have manifested themselves over your tenure.
The fans put up with a ton of garbage and while there's been a host of new fans that have come to the game, it's time to do something to pull it all together and become the overlord of the sportsman's winter. Carpe diem Gary because this is your golden opportunity to pull it all together. Don't sit around and wait and hope that the NFL and NBA all blow each other to hell with labor problems next year. Grab the reigns and ride this sucker for all it's worth. By my count there were 40 superstars who put everything they had into this Olympic tournament fighting over what amounts to be a symbolic prize for a pack of millionaires.
If you can't sell each and every one of those American and Canadian players for what they did on the ice then I'm at a complete loss and would ask you to step down from being the head of the sport.  As for myself and other keyboard jockeys who live to praise and complain all in one breath all because we love this game so damn much, it pains us to see things handled as badly as they have been.  I know people will always say that the fans care infinitely more than the players or owners ever will and while there's a high potential for hyperbole there, I buy it.
If this moment in time, something that had nothing at all to do with the NHL (I know, that's a sore sticking point isn't it? Too fucking bad.), cannot be used to build the game and make it as great for all those casual sports fans who tuned in to see if their country could win or not… I'm cashing out.
Carpe fucking diem, Gary. Make it happen.