A Sunday without NHL hockey is getting to be a bit old, two straight weeks without Sunday games makes Joe a dull boy.  Rather it makes me one that has to focus far too much on the NFL and when you're a Detroit Lions fan there's better things to do.
So rather than go into hiding and pretend like my efforts to take down the Western Conference elite of Sports Blog Nation are going all for naught, here I am to go and toot my own horn and pick out some MVPs and some players I'm going to put on notice.
Results from Week 1 vs. The Cannon

While it was just an 8-5 victory, my goaltending chomped on the tailpipe much in thanks to Josh Harding of the Wild getting bombed on and Ray Emery falling from his high horse after earning a shutout in his first start.  Marty Turco was steady but uninspiring from a fantasy standpoint.
Offensively, Drew Doughty was my main man providing tremendous value for a late-round selection tallying a goal and four assists during the first week of play.  James Neal of the Stars carried the goal scoring trophy for the team nailing down three goals.  Brendan Morrow added two goals and three assists and Sidney Crosby showed why it was awesome that he fell into my lap at fourth overall scoring four goals including a game winner.
Who's on notice after the first week?  Alex Tanguay who scored just one assist (granted it was on the power play) and landing only three shots on goal.  Paul Martin of the Devils finds himself on the hot seat as well tabulating just one shot on goal, an even +/- rating  and one assist (also on the power play).  Josh Harding in his one start for the week managed to earn a 6.01 GAA and a .739 save percentage with only 17 saves.  Ouch babe.
The Cannons were lead by Evgeni Malkin (2g 5a 16 PIM 12 sog) and Alex Burrows (3g 1a 6PIM 23 sog).  Steve Mason and Cam Ward carried the goaltending efforts earning two wins a piece and putting up mostly nice GAA and save percent numbers while seeing a ton of action in the first week.
All in all, a very pleasing effort for the Frontiersmen but that goaltending has to get better.
Results from Week 2 vs. Winging It In Motown

The trend keeps on keepin' on.  Another eight victories and only losing out on four against the Red Wings laden squad.  This is when it's fun to not be a homer.  No, not Tomas Holmstrom.
Since you didn't get to see how the squads shaped up before, here's the comparison (click to enlarge).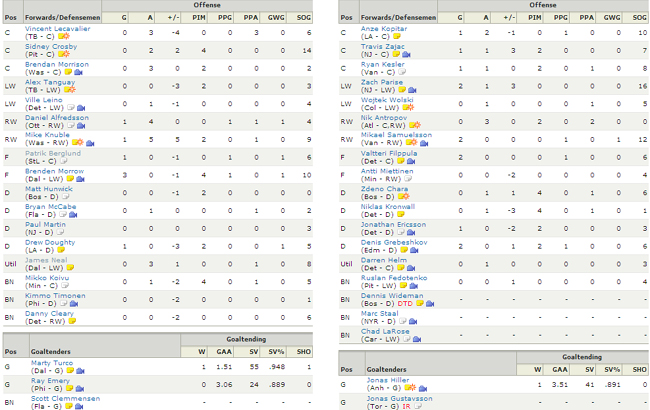 As you can see, there was one transaction made by me.  Josh Harding got the boot already in favor of Scott Clemmensen.  Harding has been lit up in two starts for Minnesota and well, if I'm going to have a backup goalie that starts occasionally, I'd prefer it to be a guy who doesn't have an astronomical goals against average and a minuscule save percentage.  Call me old fashioned.  As it stood, the only thing I struck out on this time were wins.  Turco had a stellar week including a shutout and Emery, while mediocre, wasn't overly brutal in his one start.
Offensively, the Frontiersmen were beastly although they enjoy the company of the minus rating.  Alfredsson, Knuble and Neal all ponied up the assists and Brendan Morrow did the heavy lifting with the goal scoring.  You really can't complain when you get consistent offensive work like that each week.  What I can complain about is how miserable Alex Tanguay is.  I know the offense in Tampa Bay is struggling (as will happen when you basically have one scoring line and nothing else) but tallying zero points and a -3 for the week is a good way to end up on a fantasy managers bad side… Especially when you have one of his other teammates setting up at center for you.
Vinny Lecavalier has yet to score a goal and while the three assists this past week were nice, the -4 is a mega kick in the nuts.  Vinny will get his goals eventually, but the pain of his lack of success is being felt in places other than central Florida.  This isn't to say that Vinny is officially on notice, but it's just plain old frustrating.
Who is on notice?  Paul Martin of the Devils.   Zeroes across the board and three shots on goal.  At least get kicked out of a game or something man.  Defensemen are thin pickings in the league as it is, but its frustrating to not get anything from a guy that is getting enough playing time to make things happen.
That said, the whining ends there.  +/- is a bit of a crap-shoot category and it can fluctuate from week to week so there's no real use in trying to plan against that, especially when you can get a lot more out of every single other category possible by playing a guy any given night.  I would like to see the goal scoring pick up though.  You hear me Vinny?
This week I will have my duel with Nathan from Hockey Wilderness, one of a handful of in-house throwdowns.  After reminding Nathan about his team, suffice to say he hates his Yahoo auto-drafted squad.  I'm not about to start counting wins here, but confidence is running high.  Nathan's "State of Mediocre" pulled a rather Wild-like showing this past week getting shutout by Defending Big D 11-0.
Oh yes, confidence is VERY high.