Last season I did a twist on the customary season preview kind of story.  Instead of painting everything with the forever awesome hopeful brush, I came busting through like the Grim Reaper (no, not Stu Grimson) and tapped five teams before the start of the regular season to tell them that their season was over before it started.
I tried on the black robe once again and it fits great and the sickle is just as menacing as ever and it's time to go a-reaping.  My goal this year was to pick on five teams that I didn't touch on last year, barring the possibility of those teams being so piss-poor that it was thoroughly unavoidable.  My five choices last year were the St. Louis Blues, Florida Panthers, Los Angeles Kings, New York Islanders and Atlanta Thrashers.  My only slip up came with the Blues as they powered through last season to find a spot in the Western Conference Playoffs and giving me the finger the whole way.  Thanks guys.
This year after breaking down the teams I was faced with the inevitable task of having to pick on one team because they qualify under my own rule:  The Islanders.
Now as much as I'd like to be a mean-spirited prick, I find the Islanders to be in such rough shape that it's ev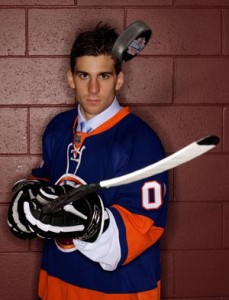 en beyond me to be mean.  I know, feel free to call me names – it's fair enough, but getting to meet a lot of Islanders fans in Montreal this summer showed me that you guys are tremendously faithful and very eager for the future and for that I don't blame you.
A trend that you'll find amongst the walking dead teams in these previews (MAJOR HINT FOR WHAT'S TO COME) is that most of these teams have a bevy of issues going on off the ice that do nothing to help alleviate the fans' worries about what's going on with the team actually playing on the ice.  In this case, it's Charles Wang taking on the Town of Hempstead in trying to build the Lighthouse Project.
The team itself are doing some of the small things to make things better for the future.  In the offseason, the Isles drafted potential franchise savior centerman John Tavares first overall and followed that selection with defenseman Calvin de Haan, an eventual power play quarterback on Long Island.  While Tavares will undoubtedly begin playing for the Islanders this season, de Haan's near future likely lies back in Canadian Juniors and while he gets to learn there, Tavares will only have the burden of being the main attraction on an otherwise hapless team.
There are nice pieces on the Island.  Defenseman Mark Streit is a true power play quarterback in his own right and as the featured defenseman with the Isles, he's lifted his game with it.  Forward Kyle Okposo too is a stud but, much how things go with the Islanders these days, he's hit a bump in the road courtesy of Flames defenseman Dion Phaneuf.
Okposo was likely set to eventually be Tavares' right wing at some point this season but with a concussion, you can never be too sure when, exactly, you'll be OK to play.  Looking at the Islanders potential depth chart, the enigmatic Trent Hunter looms as the potential top wing along with Blake Comeau.  Those of you unfamiliar with the Islanders are likely asking, "Who?" and now it's hitting you as to why the Isles are being featured first and foremost this season.
Another forward who might sound familiar is Doug Weight who had his own unreasonable run-in last year at center ice with Hurricanes forward Brent Sutter, difference being that Weight was on the delivery end of the hit.  Sure, a couple of other names might ring a bell or two (Jeff Tambellini, Sean Bergenheim, Richard Park) but as far as being a big scoring team… Well, the Islanders are just not going to be that.
Defensively, Mark Streit is the do-it-all deity on the blue line and hey, why not, he's Swiss and that's pretty fun – isn't it Roger Federer?  Brendan Witt is the other name you'll recognize here and he's also there to be the team peacekeeper.  Outside of that you've got the oft-injured Radek Martinek and Bruno Gervais as well as the oft-injured Andy Sutton.  Come to think of it… Those are three guys that are usually banged up.  Thankfully for the Isles and general manager Garth Snow they managed to address one sort of weakness in goaltending.
Goaltending was a major problem for the Isles last season given that superstar Rick DiPietro again found himself shelved with nagging injuries.  In his stead, the team ran with superstars like Yann Danis, Joey McDonald and Peter Mannino in goal.  Goaltending depth shouldn't be a problem this season as both Martin Biron and Dwayne Roloson were brought on board to help steady this ship while DiPietro, again, rehabs from a knee injury.
At the very least the Isles won't get caught with their pants down in goal but in t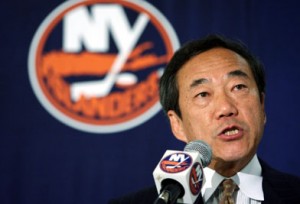 his case, it's merely rearranging deck chairs on the Titanic after it's already at the bottom of the ocean.  Yeah, that's a bleak outlook but being part of a perpetual rebuilding project often has huge roadblocks, the least of which is an Eeyore-like black cloud looming over the franchise about whether or not their future lies in Long Island or some other place.
All of that stuff will just provide little to no respite for Isles fans who will get to soak in the future stardom and celebrity of John Tavares while watching their team struggle for offense (unless Tavares goes 1980s Gretzky on us) and hopefully avoid the injury bug that's bitten this franchise for three years running.
Realistically, this team will be one of the five worst in the league which, considering their building blocks with Okposo and Tavares, might not put them in a bad spot for the future.  For now, however, they'll struggle terribly and being stuck in a division with the defending Stanley Cup Champion Penguins as well as the built-to-kill Philadelphia Flyers.
Enjoy Tavares Islanders faithful and don't worry about if you get caught daydreaming about the future, you won't be at fault for doing so.