This week I go on one of the more awesome, and slightly random, hockey-themed road trips I've ever done.  This has become a bit of a thing for me, going back to April 2007 when I made it to Denver for the Frozen Four.  That trip was so incredible and life-fulfilling that it's inspired me to do other trips both great and small.  Whether it meant going to last year's Frozen Four in, now hockey-mad, Washington D.C., taking a short drive over the Berkshires to take in a Division III NCAA Tournament game or going to Montreal for the NHL Draft it didn't matter – hockey was the reason and everything about each of those trips made it 100% worthwhile.
The great secret I've discovered is the road trip itself and when the college schedule was completed and it was announced that RPI would be heading to Detroit for the Great Lakes Invitational I circled the date and started to ask around to some of the other RPI-mad fans I know to see if this might be something we could do and sure enough… Everyone else was more than fair game and driving (yes, driving) from here around Albany to Detroit seemed to be the way to go about it.  More folks were contacted and more people were interested.  Hey, more the merrier, right?
For two days, this annual Michigan-centric tournament takes over Joe Louis Arena and University of Michigan, Michigan State and Michigan Tech have a battle to see who can be the GLI champion and get a banner hung inside the Joe to state as much.  Every year a fourth team is invited and RPI got the call this time around.  North Dakota was there last year, so it's not as if a patsy is invited to secure an easy win for someone, although some Michigan fans seem to find RPI to be the weakest team to be invited in a long time.  We'll see how that goes as Michigan is having a bit of an off year.
Fun thing about getting this many heads together for a plan is other ideas pop up.  The NHL schedule was released and sure enough, the "traditional" New Year's Eve game at Joe Louis Arena was back on, after being called off for preparation for the Winter Classic last year.  Detroit against Colorado is the game and so another call was made to secure tickets for the gang.  Three nights in a row our band of RPI fanatics (now tentatively bearing the moniker of Collar City Madmen) would be holed up at Joe Louis Arena for a total of at least three games, probably four or five depending on how ambitious we are to see the other games of the GLI.
For myself, getting to see a Red Wings game at the Joe is the icing on the cake.  Look at it this way, about 25 years ago my hockey fandom was kicked into high gear thanks to the local team from RPI winning the National Championship against Providence College… At Joe Louis Arena.  It was that same local team that provided another local team, the Adirondack Red Wings, with a soon-to-be Hall of Fame player in Adam Oates (who was later unceremoniously traded by the Red Wings in one of the worst trades of all time) but helped make that connection to the NHL team I now follow.  Fast forward to now and here I'll be in the same arena getting to see BOTH of these teams.
This is about as close to a religious experience as this lapsed Catholic will ever get.  I'll be at the Joe where Oates, Puppa, Carter and Servinis helped lead RPI to their last National Championship and I'll be getting my photo taken at Gordie Howe's statue and finding ways to get as many pictures of Steve Yzerman's banner as one person can get.
It's my moment damn it, keep your remarks to yourself.
As Ron Popeil might say, "But wait, there's more."
This schedule for the trip means that New Year's Eve will be spent hoping the Red Wings didn't lose anymore players to injury and maybe pull out a victory and then finding a bar to hole up with the gang, usher in 2010 and then get right the hell to sleep because a road trip to Buffalo is in order for the day of January 1st.  Sure, most everyone will be going bonkers over the Winter Classic in Boston but we'll be getting geared up for Thrashers v. Sabres at HSBC Arena in Buffalo because, really, you can't have enough hockey.
Oddly enough, for the limited number of NHL games I get to see live this will be the second time I've seen Atlanta play in the last three or four years.  The last time I saw them was down at Madison Square Garden against the Rangers when the Thrashers won in overtime and Ilya Kovalchuk proved to me what a madman on the ice he can be.  Just an unreal, sick talent.  More fun than that, this helps make packing for a trip easy.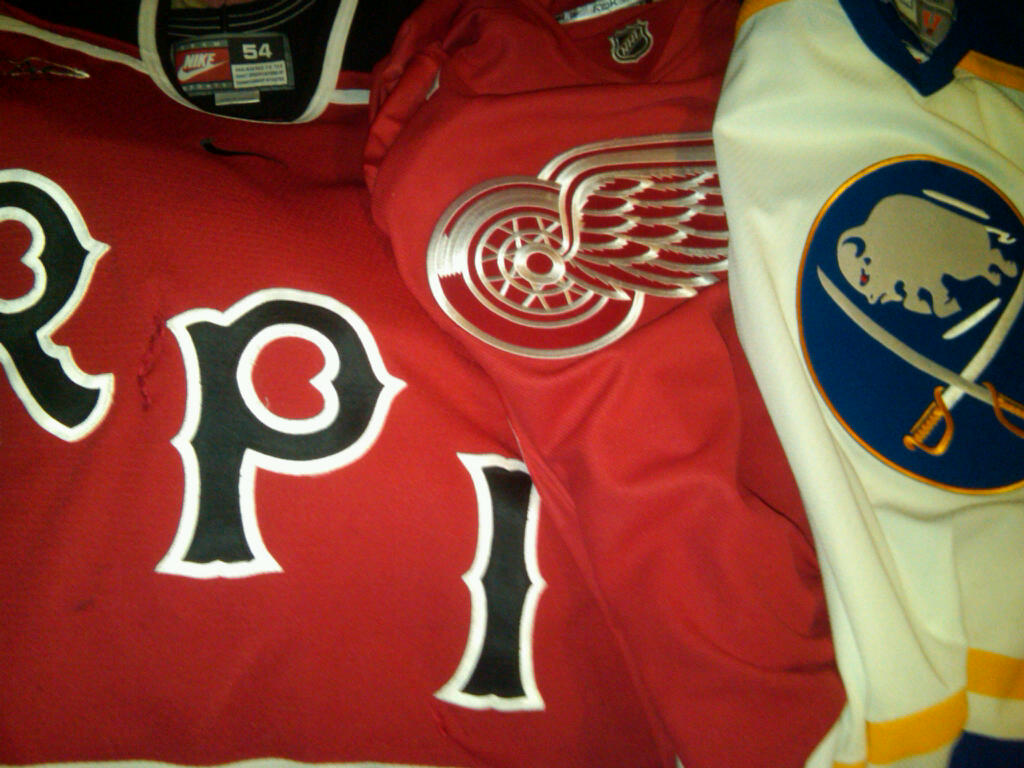 RPI jersey?  Check.  Red Wings jersey?  Check.  Old school Buffalo Sabres jersey?  Check.
Good to go!
I know it sounds insane to be fired up for a trip to two cities in the Rust Belt of the USA but here I am writing this up in the wee hours of the morning before hitting the road to get to Buffalo and stay the night there before trekking to Michigan.  What makes going to places like this in the dead of winter when the climate is at its bleakest and these cities are seemingly even less "fun" to visit?  It's hockey, stupid.  Simple as that.  It's cities like these where hockey lives and breathes the hardest even when things financially aren't at their best.  The fans love their teams and when it comes to college hockey at Joe Louis Arena… Well, that's a big deal there too because state bragging rights are more-or-less on the line and the Michigan-Michigan State rivalry is vicious.  Even going as an "objective" hockey fan for an event like this I would be fired up so you can imagine what the adrenaline rate is now having horses in most of  the races involved here.
The NCAA has made it a point to have better "destination" cities for some of their bigger events (namely the Frozen Four) but it's places like Detroit and Buffalo (and Minneapolis/St. Paul) where hockey encompasses the lives of the folks there.  Sure some folks can get up in arms over selecting Ford Field as a Frozen Four venue (rightfully so) but their line of thought was right.  For every Tampa Bay the NCAA picks out, they make sure to take care of St. Paul, Minnesota and the Denver too.
As for updates while I'm gone for the week… Don't expect too much unless I witness something completely insane or I'm duly inspired and want to (potentially) drunkenly ramble when I return back to the hotel room.  If you're wanting in on crazy stories from the road or photos as they happen, I strongly suggest following me on Twitter @HockeyJoeGM.
If you're looking for the straight stuff about RPI hockey, you need to be reading Without A Peer and following along with Tom and Gary at their site and with them on Twitter as well @without_a_peer.  I'm sure there will be plenty of stuff to hear from us about while this newest chapter of hockey road trip madness unfolds.