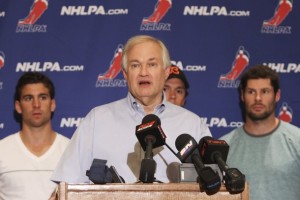 With a few days off from writing for the Peacock, I've got a few things bouncing around my brain.
— Folks are starting to fret about labor issues disrupting the start of the season. It's a healthy thing to worry about but the juxtaposition between "fan worries" and "colleague worries" is so different.
Fans are worried they won't have hockey to watch and get worked up about. Colleagues are worried, in some cases, that they won't have something to help them collect a paycheck. These are the sorts of things the league and players don't keep in mind.
Yes, players won't get paid if there's a lockout, but when they do get back to work they're making a pretty penny (even if their salaries do get rolled back). For writers, freelancers especially, that's not how it works and it sucks. Big time. I know both sides won't think about these things, but for the sake of sanity let's hope they keep the kvetching to a minimum.
A while back I got into a bit of a Twitter row with my pal Bruce Arthur of The National Post when I stupidly didn't think of the big picture in these matters (this was in a discussion of the NBA lockout at the time). I get it and, as usual, Bruce was right.
— I feel for Scott Howson. He's a good guy, a nice guy, but that doesn't always make you good at your job. That said, he did what he had to do in dealing Rick Nash and while I think he had a better offer on the table from the Rangers at the deadline (one which he said "no" to), he did well in getting what he did from New York now.
He gambled on teams being eager to pay up big to get a superstar once free agency, he gambled (mostly) wrong. Dubinsky is a nice player, as is Anisimov, but Tim Erixon (he of the curious karma) is the guy who can help maybe make this deal a push when we look back on it in years.
Then again, Nash could re-discover he's a superstar on Broadway and become a Manhattan folk hero and Columbus fans will never hear the end of it no matter what. Hooray fun!
All that aside, read up on Aaron Portzline's 61 thoughts on the Nash deal is a must-read. Suffice to say, there's a lot more than meets the eye.
Science interlude: HOLY CRAP, THERE'S WATER IN SPACE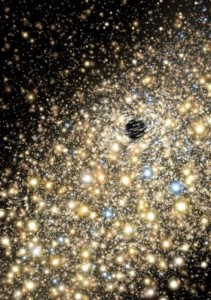 — Alexander Semin is a freaking lightning rod of controversy. "No way! Really?!" you say sarcastically. "Shut up, it's my website," I say back to you.
People love him (mostly Caps fans), people hate him (hockey old timers and other Caps fans) but they guy is stupid talented. I hope he takes this opportunity in Carolina and uses it to prove to everyone what he's capable of. If he pulls a Zherdev and decides to be moody, that will be massively disappointing.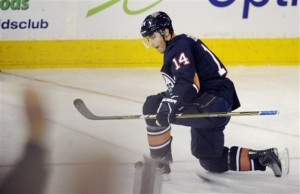 — Favorite idea of the weekend? Derek Zona's thought to deal Jordan Eberle for P.K. Subban. The thinking here is Eberle's value (and image) has never been higher while Subban is massively under-appreciated in Montreal. Couldn't agree more with that line of thought.
Of course, that also means Steve Tambellini would never have the cojones to try and do it. Life is forever a pipe dream in Edmonton.
— Zona is also sky-high on Oliver Ekman-Larsson. File that under: Duh.
— I'm loving the beach volleyball at the Olympics. It's the least fuddy-duddy sport of the Games, and me saying "fuddy-duddy" practically makes me one as it is. It's like I NARC'd on myself.
— Love it that Teemu Selanne is back for another year. Now if we can just get Daniel Alfredsson to do the same, that'd be great. It's still a huge bummer Nicklas Lidstrom decided to hang it up, but after talking with Aaron Ward during the Stanley Cup finals (he's the guy that broke the news after all) it sounds like Lidstrom had his mind made up for a while.
— I'll try to do these more often. I got inspired reading Peter King's Monday Morning Quarterback and while I know he gets plenty of grief, I enjoy how personable he makes his columns. He takes you into team camps, he gets you inside to let you know what's going on and hey, you'll get some coffee and beer talk too. Put me down for a few of the latter.
(all photos courtesy of AP – they'll probably yell at me now)