Hi, I'm Joe Yerdon and you might remember me from such hockey blogs as Violating The Trapezoid which later became Gross Misconduct.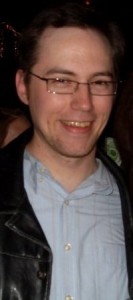 You might also recall a short stint I had with Fox Sports AM 980 WOFX's website with my supremely popular Gross Misconduct with Hockey Joe.  Those three to four months there go down in the annals of time as a moment when my page there routinely out-hit all of the local programming there… And I wasn't even on the air!
I also moonlight over at Hockey Wilderness on the SBN family of blogs lending an easterners view to the Minnesota Wild as well as very randomly and occasionally at U.S. College Hockey Online.
If you've found me here that means you're a big fan of hockey both professional and college or you're  not a big fan of either Gary Bettman, the neutral zone trap, the Versus Network or just general mismanagement of the greatest sport in the world.
I grew up watching Wayne Gretzky's Edmonton Oilers of the 1980s run roughshod all over the NHL and as a tyke found myself blown away by the spectacle of firewagon hockey.  The game was fast, the game was skilled, the game was physically brutal – what more could a kid want?
I also grew up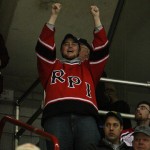 in the Capital District of New York State surrounded by some of the best local hockey this area has ever seen in the form of the multiple-time Calder Cup winning Adirondack Red Wings in the AHL and the 1985 National Champion RPI Engineers in NCAA Division I.  Having all of these incredible programs to watch it's fair to say I've been spoiled.
In person you'll find me openly rooting for the Detroit Red Wings, RPI Engineers and my alma mater, NCAA Division-III Oswego State Lakers.  I'll be objective here, but if you're picking up any sense of sarcasm, chances are you've caught on to the joke and for that I award you an Internet handshake.
Fun fact about me that will horrify all of you: I have an extensive hockey jersey collection, mostly done on the cheap (sue me) and featuring some of the NHLs legendary horrible jerseys.  I'm pretty easy to pick out of a crowd.