Last week it was Hockey Wilderness in-fighting as the matchup had me pitted against the head of operations, Nathan.  Instead of it being a spirited Civil War battle, it turned out to be the Fantasy Hockey version of Sherman's march to the sea.

Nathan's squad of Yahoo-drafted fantasy mercenaries did manage to win a few categories and prevent my team from making things really awful (the lead was 11-1 before the weekend) and it also shows that fantasy hockey isn't completely nerd-proof since categories like game-winning goals are things you just have to hope get you wins.
On the other side of things:  PHEW!
Winning assists and shots on goal by one as well as power play assists by two are tenuous, yet celebrated, victories.  Sure losing goals and power play goals by one is a kick in the teeth, but hey, stuff happens.  The goaltending did the trick for me and new goaltending acquisition Scott Clemmensen did all that he could to try and throw the numbers off completely managing (in his only start of the week) to give up two goals on three shots before being pulled for Tomas Vokoun (who was supposed to have the night off).
As for how the matchup broke down comparatively: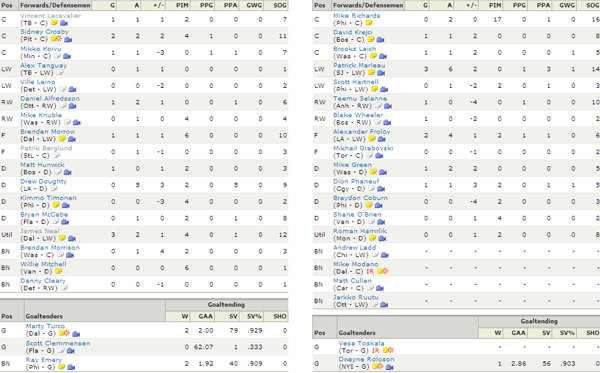 General Ulysses S. Grant (MVP of the week): How much fantasy hockey love can I heap upon Dallas Stars winger James Neal?  The guy has been a beast and a three goal, two assist week with 4 PIM and 12 shots on goal is pretty awesome.  Now if only I could get some of those goals to be game winners… Oh wait, he did that tonight against Toronto.  Chew on that Second City Hockey.
General William "Tecumseh" Sherman (Supporting the Romp): Give it up for L.A. King Drew Doughty and his five assists and +3 rating, a rating that helped balance out Kimmo Timonen's -3 for the week.  Sidney Crosby also gets credit for being himself pulling down two goals and two assists as well as 11 shots on goal.
General George Armstrong Custer (Least Valuable Player): It's tough to be less valuable than Kimmo Timonen is right now, but getting little to nothing of value from defensemen is semi-expected.  A -3 rating, four PIMs and two shots on goal is pretty lame though.  That said, Paul Martin did less than that and that's why he's been replaced by Vancouver's Willie Mitchell.  What do I expect from Mitchell?  PIMs and the occasional point or two as well as not being a +/- nightmare.
The Next Battle of Big Horn (As written like a WWE wrestler promo):
I'm looking your way Chicago.  You hear me Second City Hockey? You guys in Blackhawks land might "Commit to the Indian" but I commit to handing your team a whooping.  This very week on this very Internet in this very Yahoo Fantasy Hockey league, all of SBN is going to see what happens when the Frontiersmen run wild on you.