It's with a heavy heart and loads of regret that I am choosing the Minnesota Wild as the fifth and final team of my season's over series.  No, it's not just because I occasionally moonlight over at SBNs Hockey Wilderness (I warned them already tough times might be ahead).  I like just about everything the Wild did in the offseason.   The problem here, however, is that it's going to take a bit of time to right the ship in St. Paul and get away from the "make the most with the least" way of operating the team did under Doug Risebrough and Jacques Lemaire.
Lemaire certainly had his hands full as Risebrough got seemingly lazier as the years moved along in Minnesota and there's only so much you can do when you've got four lines of grinders and one scoring threat who was out of the lineup too often to be counted on.  Last year you could sense that Lemaire had had it with Risebrough's inability to add actual help to the lineup and Minnesota's bare bones farm system didn't allow Lemaire to pick off anyone overtly worthwhile from Houston in the AHL.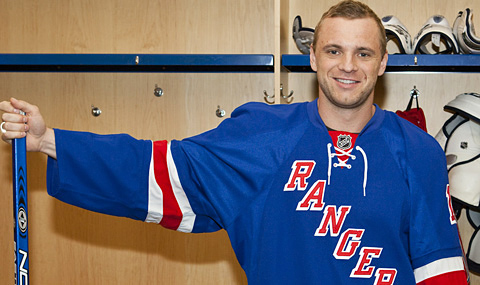 Wild fans both love and hate this picture. No, they're not bi-polar.
Lemaire left the Wild and shortly thereafter Wild owner Craig Leipold let Risebrough walk away.  In their stead, Chuck Fletcher was tapped to be the new GM and Todd Richards was plucked from San Jose to coach the team.  Out went the neutral zone trap and in with an aggressive attacking system.  The problem with this is that the Wild were built to fit Lemaire's system and scrapping an entire team isn't logical nor possible.  You can guess where this is headed.
While the start of the season has seen at least one huge highlight from the Wild, a 4-3 overtime comeback victory against hated Anaheim, other games have shown there are reasons to be more concerned (loss to Los Angeles, loss to San Jose). That's not to say this team is a lost cause, they're not,  but they are definitely one in the midst of transition and one who you will get to see learn their new system as games and the season moves along.
The positives for the Wild start with their soul cleansing – parting ways with oft-injured high-scoring phenom Marian Gaborik whose injuries last season set Wild fans off for the last time and made them all extremely happy that Gaborik turned down a Titanic-sized contract offer the season before from Doug Risebrough to stay in Minnesota.  Out went Gaborik and in comes Martin Havlat to shoulder the load on offense and give rising star Mikko Koivu someone to work with on the first line.  Petr Sykora joined up late to the party and will help give Martin Havlat som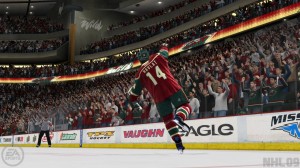 eone to goof around with on the ice and bring about some insta-chemistry thanks to both of them being Czechs.
As for the rest of the forwards there are a lot of question marks about what their play in a new system will be able to provide.  The prevailing thought is that with the leash Lemaire kept everyone apparently under being gone now, some players who showed offensive potential might be able to break out.  Players like Pierre-Marc Bouchard, James Sheppard and Benoit Pouliot will have the chance to show that they're worth something for the team and have the ability to be productive offensive players.  Older players like Andrew Brunette know their roles Owen Nolan and speedy guys like Antti Miettinen could flourish in Richards' new system… But all that learning needs to be done on the fly while trying to win games and with a defense that leaves a bit to be desired.
Sure, Marek Zidlicky was a fine point producer and power play quarterback type of defenseman with the Nashville Predators but his new gig in Minnesota has made some Wild fans angst-filled as his defensive liabilities were apparent last year and now its feared they'll only get worse as the team opens up the game.  What they do have working here is Brent Burns who is one of the better defensemen in the league you'll never hear about.  He's a great puck mover, has some solid offensive skill and can defend decently to boot.  As for the other parts here, it's a bit of a patch work.  Nick Schultz and Jamie Sifers are still young with promise which is a good spin off to talking about Kim Johnsson who is not so young but still doing decently along the blue line.  Shane Hnidy and John Scott are big bruisers, especially Scott at 6'8″, and Greg Zanon (free agent acquisition from Nashville) is the prototypical defensive defenseman.  Scott is the defenseman this year who has drawn the unenviable assignment of occasionally playing on the fourth forward line to play the part of enforcer while Derek Boogaard is out with an injury.  Just the fact that John Scott is seen as somehow appropriate in this role as a forward is a bit disturbing and speaks to where the depth on this team lies… Not that Derek Boogaard is a game-breaker in the first place, but still.
Goaltending, the Wild's asset under Lemaire, is now up for debate to see if Niklas Backstrom is a system goaltender or the real deal.  Wild fans are praying that he's the real deal as former GM Doug Risebrough's parting shot into unemployment was granting Backstrom a potentially short-term crippling contract paying him $6 million per season for the next four years.  If Backstrom doesn't show that he's the Vezina-nominated man between the pipes, the Wild are going to be cursing the name Risebrough until well after the contract expires.  Backstrom is a good goalie but he will certainly have moments where he's hung out to dry by guys unwittingly leaving him alone.  All of this same lingo applies to backup Josh Harding who, despite being a restricted free agent in the off-season, stuck it out in Minnesota getting a nice bump in pay and providing Minnesota with a potential fall back option in case Backstrom fails.
What I give the Wild thumbs up for here is making changes to fit in with the way the NHL is played now and for realizing that if things stayed the way they were, things were going to continue sliding downhill even in the face of seemingly being close to the playoffs (last year's Wild team was two points and two wins out of the eighth spot last year).  This year they'll have to take their lumps and build character and build off the wins they do get.
Learning lessons is difficult to do and fans in Minnesota are going to HAVE to be patient with this team and realize that the previous administration put them in this hole by scouting young players poorly and not being properly active in the free agent market.  Chuck Fletcher has already done a world of good in that respect, losing out on Saku Koivu because he didn't want to steal the spotlight from his younger brother and landing Petr Sykora to help give a boost to the offense.
A championship won't be won in one off-season in St. Paul, but should coach Todd Richards show a commitment to playing the up-tempo attacking brand of hockey that has become more of the norm across the league and the fans continue to show their immense support and love for this franchise, the free agents will come because playing that brand of hockey in a place that will  live and die with their team while supporting the hell out of them is the greatest thing in the world.  It's just going to take a little time is all and this year is going to be the "darkness before the dawn" for Wild fans.
Have faith, but for now… Have a seat on the bench, the playoffs won't be there for you this year.