I get that I've been dragging my ass on these but my PR-friendly reason for going slow on these is so I can look at all these teams with the magnifying glass I need to to make sure I don't make a boneheaded choice.  Of course the three teams I've profiled already have had impressive starts of their own (Colorado in particular going 2-0 so far) so perhaps I'm just yet another Internet blowhard that doesn't know anything.
Naaaaah.
I'm to the point now where the final two teams I'm going to look at I do with severe reservations because they had so much off-season upheaval that it's tricky to tell which way they're going to go and how they'll respond to things.  In the case of the Ottawa Senators, they've done what they can to rid themselves of a cancerous presence in Dany Heatley and despite one failed trade with Edmonton that would've provided a very nice return package, they sent him away to San Jose for a couple of players who very well could help make the Sharks look really bad for dumping them.
There's a lot of qualifying statements in there and that's a fun way for people to cover their asses when making supposedly bold statements, so instead of doing that I'll just come out and say it.  The Ottawa Senators aren't making the playoffs without Dany Heatley this year.  Of course, they didn't make the playoffs last year WITH him so that statement isn't as bold-sounding as it should be, but I digress.  Coming over from the Sharks were steady goal-scorer Milan Michalek and the enigmatic Jonathan Cheechoo.  We know what the Sens are getting in Michalek, a 20-30 goal scorer that functions well on the power play.  In Cheechoo, that's more of a question than Dany Heatley's ability to deal with a tough head coach.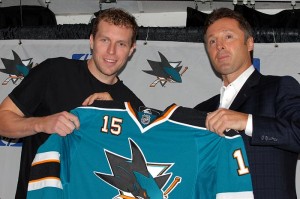 So long, douchebag! Oh… Now we can't score.
For three seasons Cheechoo was a goal scoring fiend notching 28 in 2003-04, 56 in 05-06 and 37 in 06-07.  Then something happened, as he netted only 23 the following season and a mere 12 last season all while being supplanted as Joe Thornton's right wing man by youngster Devin Setoguchi.  So which Cheechoo are the Senators getting from the Sharks?  The guy who was a budding Brett Hull or Sylvain Turgeon redux?  Some have theorized that Cheechoo needed the change of scenery but let's face facts, if anyone was feeling pressure to perform in San Jose, Cheechoo was pretty low on that totem pole underneath Thornton, Marleau, Nabokov and two different head coaches.
At least in Ottawa he gets to join a team with another enigmatic centerman in Jason Spezza and much like in San Jose, Spezza is really all the Senators have that passes for a playmaking center.  This does not bode well for the Senators.  Mike Fisher is a nice defensive centerman capable of occasionally making plays but asking him to be the scoring #2 guy is like asking for Carrie Underwood to be your girlfriend.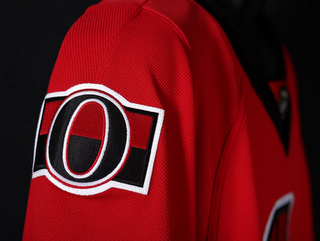 The "O" stands for 0% chance of making the playoffs.
Er, nevermind.
Along the wings, the Senators still have captain Daniel Alfredsson and signed Alex Kovalev in the offseason to help create two lines of solid-enough scoring talent (provided Cheechoo can shake off the cobwebs).  Nick Foligno and Chris Neil are solid depth pieces and Chris Kelly is an all-right checking center.  The rest of the forwards here toss out names like Peter Regin, Shean Donovan, the even more enigmatic Ryan Shannon and the man with a name that sounds like he should be the villain in a teen comedy, Jesse Winchester.  Outside of the all-worldly talent of Alfredsson, Spezza and the temperamental Kovalev, most of this teams offense is surrounded with question marks.  That's just a minor cause for concern here though as the major concerns come from the defense and elsewhere.
On the blueline, the Senators trot out a top six lead by the steady and solid work of Chris Phillips and Anton Volchenkov.  From there, things get dicey as duties fall to former Islander Chris Campoli, big shot and power play guru Filip Kuba, and a choice of youngsters like Erik Karlsson, Alexander Picard and tough guy Matt Carkner.  In goal, the Sens bust out Columbus castoff Pascal Leclaire, who lost his job thanks to injuries and Steve Mason as well as farmhand turned into last season's starter Brian Elliott (from the University of Wisconsin).  While neither of these guys are named Martin Gerber, the lack of  faith in goaltending has to be stuck in the back  of coach Cory Clouston's mind.  Hell, it's got to be stuck at the front of his mind too.
But hey, at least Dany Heatley isn't around anymore to sulk and be a huge distraction, since that's where all the team's problems on the ice stemmed from.
…Cough…
What the Senators have here is a team that cannot afford an injury to Alfredsson, Kovalev or Spezza.  Without Spezza this is a team without a playmaking center and have virtually no one to pass to the wingers who actually can score.  Yeah, I know, injuries are capable of crippling any team at any time, I get that.  What hampers Ottawa is that even without Heatley and his ego, attitude, and monstrous contract, the team is still pretty hard up against the cap.  With this, defenseman Brian Lee was sent to Binghamton of the AHL to keep his contract off the docket ($1.275 million worth) and having to replace anyone who is injured becomes more of  a chore, especially if they're not long-term injured reserve (LTIR) eligible.    Let's also just say that what the Sens have available to them in the AHL isn't exactly appealing.
Ilya Zubov is a young center with potential, but he's apparently been sent to the AHL for the last time (at least for his liking) and Martin St. Pierre was signed in the offseason to help out up the middle just in case, but to me he strikes me as a player who is really good in the AHL and just can't get over the hump in the NHL.
Yuck.
Someday the Senators are going to get out of salary cap purgatory and be able to replenish their stock and someday they're also going to figure out how to get better at drafting because having homegrown third and fourth liners is nice… But it's not going to win championships and for the time being, it's not going to even get them in the playoffs.  Canada's capital city is going to have to settle for being the tackling dummy for the Leafs and target practice for the Canadiens this year.
Thanks for playing Ottawa, the Islanders, Avalanche and Coyotes await you at the first tee.