I've made it known here that one of the few things I will be a fanboy about are my college hockey allegiances, and in Division I it's all about the RPI Engineers from the ECAC.  So if you're expecting level-headed stuff here, well, just forget it while I let my hair down.
Today the ECAC released the conference coaches poll and the media poll.  Full disclosure here, I was, indeed, one of the voters in the media poll and something I'm quite flattered to be asked to take part in.  Thanks to Ken Schott at The Daily Gazette for giving a little bit of love to this Internet-only media freak.
Ironically enough, I did take off my homer hat for my rankings in the poll.  At least I thought I did.
My list went this way:
Yale
Princeton
Cornell
Harvard
St. Lawrence
Dartmouth
RPI
Clarkson
Union
Quinnipiac
Colgate
Brown
Compared to what the ECAC Pre-Season Media Poll turned out to be, I'm apparently the outlier they're looking for.  The final Media Poll results:
Yale   (15) 278
Cornell   (7)  272
Princeton  (2)  253
Harvard  (1)  224
Dartmouth  183
Union  143
St. Lawrence  134
Clarkson  125
Colgate  106
RPI  102
Quinnipiac  90
Brown  35
The numbers in parentheses are first-place votes and the larger number is total points in the poll.  As expected, the top four teams were pretty universally chosen by all the voters and even yours truly managed to stay on point with everyone that way.
What I didn't quite expect was how, seemingly, the rest of the pollsters stayed in line with each other in regard to how wide open everything in the conference is below the top four.  From how it shakes out, the only thing most everyone had in agreement was that Brown was going to finish last – something which all the coaches agreed with – ouch.  Everything between fifth and tenth though?  Crap shoot.
I won't lie, I was toying with the idea of pulling names from a hat for those spots but instead tried to do the right thing and look at things logically.  Apparently my logic is a bit off from the herd.  I won't break down why I picked the teams in the top four because that's the consensus and you can juggle and mix and match all you want there.
The amount of love Harvard got in the poll, including a first place vote, is something to take note of.  Harvard will get goaltender Kyle Richter back this year (after missing last season for "personal reasons") and they're bringing in a solid freshman class lead by Montreal Canadiens 2009 first round pick Louis Leblanc.  Harvard does manage to do very well and they've got a solid defensive team as it is, but clearly Harvard's stunning lack of offense in last year's playoffs which saw them get shutout by last place Brown in back to back games didn't cause voters to hold off on the Crimson appreciation.
For me, it was more about Richter being back in goal (because he is a very good goaltender) and providing the stability back there.  I'm not much of a fan of coach Ted Donato's system so if the team struggles to score goals this year I'll happily start pointing the finger there but I do believe that they will be better and embarrassments like the one against Brown in the playoffs last year won't happen again.
I mention Harvard in particular because what is rightfully being lauded about them is their incoming freshman class.  Leblanc I've mentioned but there's a few other names here that help the Crimson instantly with Minnesota Wild fourth round pick Alex Fallstrom and Marshall Everson from Edina High School in Minnesota.  These guys will all be solid producers for the Crimson this season and they're guys that folks know about pretty well at this point in the ECAC.
Which leads me to wonder why, exactly, RPI sits under the radar.  Oh I know, they were bad last year.  Really bad.  Before the playoffs came around, RPI was 11th in the conference and was one of the lowest scoring teams in the NCAA all while winning seven games in the regular season.  If the season ends at that point ranking out the Engineers low is just about the only thing you can do.
Thank goodness for the playoffs.  RPI swept Dartmouth in the first round riding goaltender and Columbus Blue Jackets prospect Allen York to victory in Hanover, New Hampshire.  RPI would lose their quarterfinal series to Cornell two games to one, with York shutting out the Big Red in game one.   Something RPI did in Game One scared Cornell so much that coach Mike Schafer decided to blame the officials for why his team couldn't score and earning him a suspension for Game Two while ECAC officials made a mockery of the rule book after being scared by Big Mike.  Cute.
Shouldering the scoring "load" for the Engineers in the playoffs were members of the youth movement.  Conference All-Rookie team member Patrick Cullen along with other freshmen Christian Morrissette and Jordan Watts notching goals and instilling pride in the program once again.  Losing a hard-fought Game Three at Lynah Rink is a pretty decent moral victory but one that leaves the guys returning this year with a bad taste in their mouth because they know they could've had that series and made their first ECAC Championships appearance in Albany.
Having younger guys like Cullen, Morrissette, Watts and Alex Angers-Goulet show up and score in the playoffs helps plant a seed, at least in my mind, that the new guys on the scene this year with Blackhawks second round pick Brandon Pirri and Maple Leafs sixth round choice Jerry D'Amigo as well as USHL product C.J. Lee and Pirri's Hockey Canada teammate Marty O'Grady there's a lot of good reasons to think that RPI can break out and "show up out of nowhere" this year.  Being ranked low by the media might serve to be a good motivator for this group, we know that coach Seth Appert certainly will put it to use.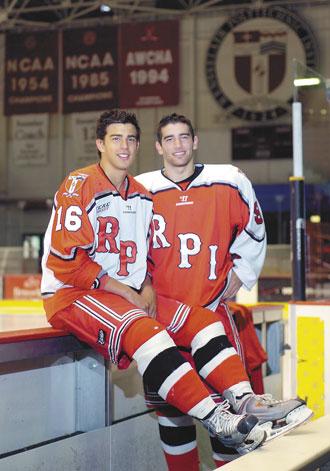 Brandon Pirri and Jerry D'Amigo (Photo: Tom Killups – Troy Record)
So if there's this huge influx of talent… What gives media folks?  My thoughts on why I slotted RPI seventh include these points:
Everyone between fifth place and tenth place in the ECAC are all just about equally on par with each other.  That means these teams will all be knocking the crap out of each other and splitting season series with each other are possible.  Some teams are going to take chunks out of the top four on occasion (even RPI managed to manhandle Princeton once last year) and get a point or two on occasion.  The point differential between teams five through ten is going to be minuscule and the race for home ice in the first round (teams in fifth through eighth all get it) is going to be rough and for three of those four teams, it will mean a tough match-up right off the bat.
All of these teams have huge questions, all of these teams (even Brown) have done something in the off-season to try and make improvements.  The case with RPI that I'm willing to stick my neck out for is that while placing them seventh isn't really a huge mind-blowing decree, it does mark a stark improvement for the program and one that coach Seth Appert will need to have show on the ice in order to keep the "Defenders of '85" off of his back.
The "Defenders of '85" are the folks in the RPI fan base who have been wildly unhappy with everything that has gone down in Troy since Adam Oates, Daren Puppa, John Carter, George Servinis and coach Mike Addessa brought RPI their last National Championship in 1985.  These fans can generally be found on the side of Houston Field House across from the student side and are questionably and amazingly mute during games.  This is an especially fascinating phenomenon when you consider that college games should be loud, raucous affairs.
I digress.  For Appert's sake, the solid recruiting classes have to start paying off this year.  Last year's surprising success in the playoffs helped whet the appetite for a lot of fans but another single-digit win season will not suffice.  Fortunately, the building blocks are set and this year brings the offensive weaponry.  Appert started by building from the back on out, starting with York who carried the team at the end of last season to show that he was, indeed, ready to be the top man in goal for the Engineers.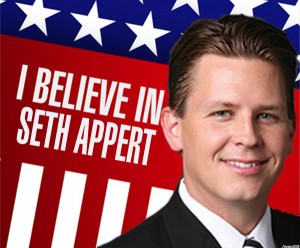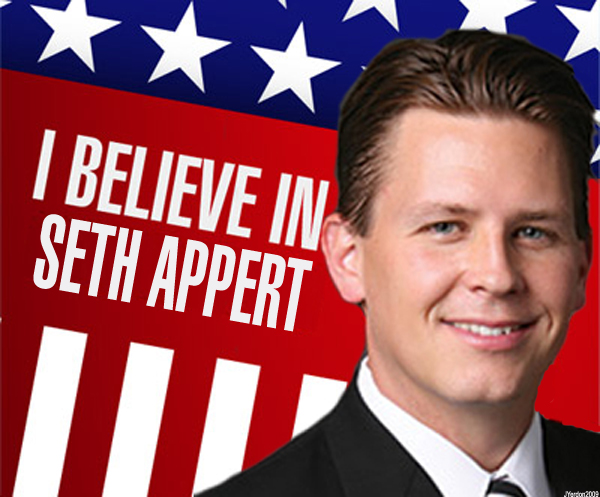 From there, it's up to the defensemen and new captain, junior John Kennedy, strikes some as a surprising choice.  He's not a guy that shows up on the scoreboard with goals or assists but what he does is exemplify playing hard in your own zone.  I can't even begin to count the number of times where another defenseman would end up out of position and Kennedy was always the "1" when the opposing team would have a 2-0n-1 opportunity going the other way.   For Kennedy, it's not about putting up the huge numbers, it's about doing his job the best way he can to help the team win.  Now it's up to his other blueline mates Bryan Brutlag, Peter Merth, Jeff Foss, Mark Zarbo, and Christian Jensen to follow his example rather than feel pressured into doing too much.
RPI also expects to get a lift to their defensive corps with the return of sophomore (and Dallas Stars draftee) Mike Bergin.  Bergin was injured six games into last season and was granted an injury redshirt by the NCAA.  Bergin came in last year as a highly touted and highly talented defenseman, but a shoulder injury short-circuited his year.  His do-over year should be a huge boost to the Engineers.
What would also be a huge boost would be for Erik Burgdoerfer to stay off the ECAC officials Most Wanted to Throw In The Box List.  Burgdoerfer accumulated 106 penalty minutes last year in just 34 infractions.  That's a lot of major penalty action for the senior and much of that helped RPI opponents gain a five-minute power play and cause RPI to be down a man for parts of the game.  While officiating can sometimes be suspect in the ECAC, you have to go out of your way to earn a reputation like that and with the number of defensemen back in the fold for RPI, Burgdoerfer will find himself wearing a suit instead of a uniform should he fall back on old habits.
Up front, youth dominates the forward corps for the Engineers.  The "old stalwarts" amongst the scoring forwards for RPI now are juniors Chase Polacek and Tyler Helfrich.  Polacek was RPIs leading scorer last season with 11 goals and 21 assists.  Helfrich was third on the team with 5 goals and 18 assists.  Like I said, RPI had some issues scoring last season.
Seniors Garret Vassel and Paul Kerins should expect to get "grind line" type duties this season although the competition for playing time amongst the forwards should be epic.  RPI lost four forwards to graduation, three of whom saw steady play and now see four very talented forwards join the team this year as freshmen.   Provided the defense can do their job and be responsible and the forwards can do their job and attack and everyone does their job and stays out of the box – this RPI team could turn the tide in the ECAC right away.  The additions of Pirri and D'Amigo alone are huge for the program as Pirri is a born and bred offensive maven and D'Amigo is seemingly made for the college game.
There's reasons to stay hopeful in Troy and if Allen York can pick up where he left off at the end of last year and provide the stability in goal to cap off all of those other things… Hockey in Troy is going to be a lot more enjoyable really soon.