This is a look at my first week fantasy match-up in the SBN Invitational Fantasy Hockey League where yours truly under the guise of being a part-time Minnesota Wild blogger gets to taken on the elite members of SBN's Western Conference.  I'll be making this a weekly feature here and will keep mentioning this until you all get the hint.
This week's match-up runs from October 1-10th thanks to the Thursday start of the season.  As I teased you all last time when I previewed the season and showed off my team, the link I provided to you to check out the league is not so helpful to those of you who aren't in the league.
My bad.
This week my opponent are the folks from The Cannon, the Columbus Blue Jackets blog.
These results are through this weekend's games and since there were none today, that makes things relatively even… I guess.  The competition between Wild Frontiersmen and Columbus Cannons goes until Saturday's games.  How do the teams stack up?  Click on the photo to enlarge it and see what the teams look like without straining your eyes.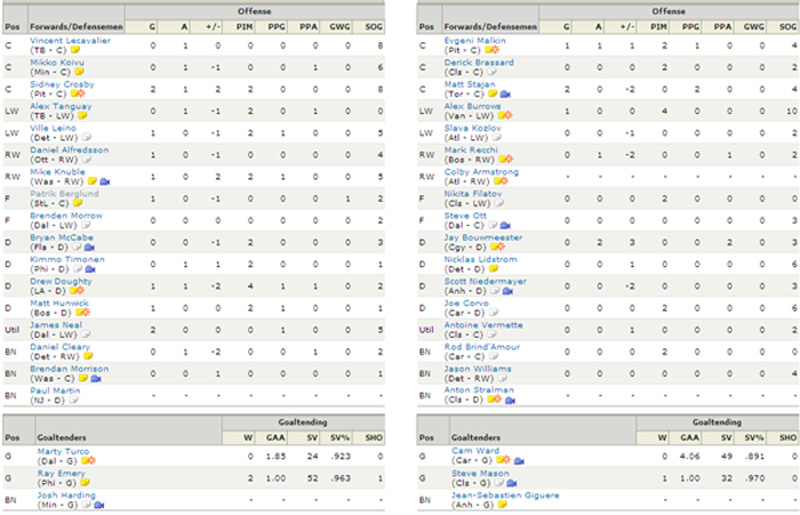 Whod've thunk it that Ray Emery would be helping me in the goaltending so nicely?  Same for Marty Turco.  Going up against the Cannons with Ward and necessary homer pick Steve Mason is a tall order to say the least but the Bruins helped rough up Cam Ward well on Saturday night making his road to recovery the rest of the week a bit more difficult.
The Cannons are well represented with Blue Jackets and may be the most homeriffic team in the league, but when those guys are Derrick Brassard and Nikita Filatov and Steve Mason… That's not so bad.  Outside of that though, the offense isn't particularly terrifying to me from a fantasy standpoint.  After all, Mark Recchi hasn't been a good pick in fantasy hockey since 2000.  Matt Stajan had a great first game for the Maple Leafs.  The Cannons are loaded on defense but, unlike in the real NHL, defense doesn't win championships.
As for my merry band of secret lovers, Sid the Kid has done his thing reasonably well and I shake my fist at his shootout-winning goal against the Islanders not counting as a game-winning goal for fantasy purposes.  That would've made for a nice bonus.  Speaking of nice bonuses, how about that James Neal in Dallas?  He impressed me last year and got out of the gates fast Saturday night scoring both regulation goals in Dallas' 3-2 shootout loss against Nashville.
I'll also allow myself a little time to pat myself on the back for picking Drew Doughty, even though he may end up being a minus machine for me, notching a goal and an assist in the Kings' 6-3 loss to Phoenix on Saturday night does this Armchair GM proud for a day.
What will I kick myself for?  Not putting a little more faith in Dan Cleary or Brendan Morrison on Saturday but with all teams playing, sacrifices had to be made.  We'll see if this costs me a point in the goals category this week as both Cleary and Morrison notched goals on Saturday.
As for what to expect for the rest of the week… Like I know?!  It's the first week of the season so having any expectations at all is silly, but let's just hope things keep on… keep on truckin' right now because this is a nice start.  I'll wrap things up next weekend with a recap of the contest and a preview of next week's fantasy face-off with the Detroit Red Wings bloggers at  Wingin' It In Motown.