I'm going to quote a piece from David Shoalts of the Toronto Globe and Mail and I'm going to remove who they're talking about and I'll quiz you after it to ask you who you think it's about.  Pretend it's a really bad mad lib.
(noun) took money improperly from the (other financial operation) and its investors in order to pay for his share of the (NHL franchise), according to a member of the real-estate development's executive committee.
Reading something like that, given the recent history of upstanding owners in the NHL and all, doesn't really help clear up who this could actually involve, right?  After all, it could be Phoenix with Jerry Moyes.  It could be another story about Boots Del Biaggio and his ham-handed work with the Nashville Predators.  Perhaps it's a long dormant story about John Spano, former Islanders owner and how he's enjoying life as a convicted felon.
Or… It's about one of the knucklehead co-owners of the Tampa Bay Lightning and how he used money from his Bear Mountain Resort in British Columbia, Canada to help pay for his stake in the team.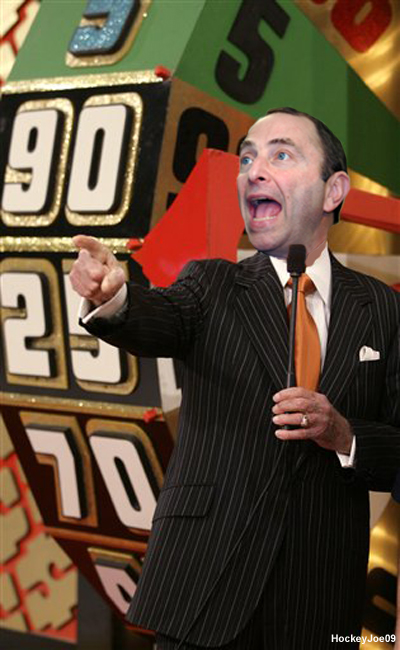 Tampa Bay Lightning – Come on down!  You're the next contestant on The Price Is Wrong!
It's quite amazing that characters like Barrie and all of the others I mentioned previously have all managed to pass the NHL Board of Governors sniff test to be an owner, yet Jim Balsillie, the guy actually with money, is always left out in the cold.  It's just silly.
Adding to the fun of this nonsense with Barrie, Bear Mountain and the Lightning is this analysis from Tom Benjamin of Canuck's Corner.
Palace Sports and Entertainment – owned by the estate of Bill Davidson – had been trying to sell the team for a year before Koules emerged in the spring of 2008. Unfortunately, Koules had neither the money nor the partners to swing the deal. Even after hooking up with Barrie, Koules could not get financing. It is a mark of how desperately Palace wanted out that they agreed to temporarily carry the mortgage. After Koules failed again to get alternative financing, the arrangement became more than temporary.

It now appears that Koules and Barrie's falling out happened when the team ran out of money early in 2009 and Barrie couldn't answer the cash call. Koules (and the league?) carried the Lightning through the season. If the news reports are correct, Koules is back knocking on the Palace door because Len Barrie has to be bought out, because the team will probably run out of cash at some point during the season again, because Koules doesn't have the money and because Koules can't borrow it anywhere else.
Yes, that's right – the eccentric pair of Koules and Barrie could end up sticking the former owners of the team with the bill because their money pot could be empty.  More from Benjamin:
What can Palace Sports and Entertainment do? I'm sure the executors of Bill Davidson's estate want out of the hockey business, but they have a substantial amount of money at risk. If Palace goes along it will be beca
use the alternative is bankruptcy and they will be effectively repossessing the team.
Imagine being the folks in control of Bill Davidson's estate and having these two losers showing up on your doorstep to say, "Uh, well, if you don't give us a hand with this problem, this problem is yours in a much bigger way."  Damned if you do, really bent over a barrel if you don't.
I don't think Bill Davidson had being a post-mortem repo man in mind for the afterlife.
As always, the man bringing things to life on the Internet of this situation is From The Rink's James Mirtle, and Mirtle has been on top of these slimy worms since the get-go in Tampa Bay, just check this list.
This time around, Mirtle comes out guns blazing on this situation with graphs and everything to show that the problems with Tampa are just the tip of the iceberg for our good friend Gary Bettman.
All that said, my guess is there are really only nine or 10 NHL teams which make a significant profit on the hockey side of things most seasons, with roughly another 10 breaking even depending on their playoff success. It's amazing that, even with a cap that is effectively only about $47-million** after escrow, the economics of hockey are broken, with the perennial losers (like the Coyotes) doomed to incredible losses.

** N.B. Nine teams were spending more than that in 2001-2002.
Sounds like an incredibly fun situation around the league, doesn't it?  Meanwhile, the NHL is busy putting in a bid for a financial albatross in Phoenix to keep it out of the hands of one over-zealous BlackBerry guru.  I don't think that the NHL wants to really get overly involved in this kind of do-gooder action while trying to save face for what appears to be failed market experiments.
I've stated since the beginning that what's happened with Tampa Bay isn't a failure of the NHL.  Tampa Bay was a successful market and one that was thriving… Until Tweedle-Barrie and Tweedle-Koules took over and made hockey in Tampa Bay a joke.
From the chasing out of John Tortorella to the hiring of Barry Melrose and how they've curiously handled their player moves the last two off seasons, you have no need for further evidence as to why the fans in Tampa Bay have stopped showing up in the crazy numbers they once did.  After all, would you pay crazy NHL prices to watch a team with no direction, no leadership and no respect for its new fanbase?  Absolutely not, especially when the owners have no idea what they're even doing.  Bill Davidson and Palace Entertainment knew what they were doing but then again, Davidson had it going on with the Detroit Pistons as it was.
Tampa Bay was once, briefly, a very successful NHL market and it can be again but not until Koules and Barrie are gone and should things shake out grimly there it could be a very ugly situation very soon for the Lightning.  Maybe these jokers shouldn't have thumbed their nose at college hockey and brought down the wrath of the hockey gods.
Or maybe they should've actually had money to make a purchase instead of being shifty real estate shysters.